Is a termite control service really necessary or can you find a solution to get rid of the termites yourself? What are the values that Hanoi Pest Control commits to bring to customers using our service? What makes Hanoi Pest Control always proud to be the leading termite company?
Signs of termite infestation
a) Signs of termite
Termites are known as "the silent spoiler". They are small, nesting underground, in hidden corners anywhere in your home. To effectively destroy termites, time is very important. Early detection of termite nests and correct application of eradication methods minimizes damage caused by termites. Unfortunately, most of the customers who contact Hanoi Pest Control seek help when the house condition becomes serious. Why? Because termite detection is not easy for inexperienced people. The signs are not really clear and are quickly ignored by the homeowner, sometimes mistaken for other insects. Spend some time observing your home when:
Signs of termite infestation

>>> More information: Signs of termite infestation
b) Damage caused by termite
Billions of dong is the number of damages and costs spent on overcoming the consequences caused by termites each year, this number is even higher when compared with the damage from natural disasters or fires. Termites are attracted to the Xenlulozo found in wood, destroying the wood texture easily and quickly, which is no stranger. But it is a fact that not everyone knows, strong jaws and 24/24 destructive ability allow them to attack any unprotected construction, including reinforced concrete. If you are in doubt about the destructive power of this small insect, please watch the following video:

Damage caused by termite
In addition, not only costs you a significant amount of money, termites cause negative impacts on the health and morale of the homeowner. The noise at night disrupts the family's sleep. You spend time every day cleaning the "product" that is the mud they leave behind. Respiratory-related diseases such as pneumonia, asthma ... are especially serious lurking in children, which are caused by a humid, lackluster environment.
A common mistake that makes termite extermination even more difficult is that customers find ways to get rid of termites themselves. Killing termites with kerosene, fire, chemicals ... or any of the home termite tips you find online will only make the situation worse, reappearing quickly and immune to chemical killers. Termites used earlier. The root term cannot be eradicated without the experience and expertise. The time has come for you to immediately need the professional termite control service of Hanoi Pest Control.
Why is Hanoi Pest Control's termite control service?

As mentioned above, termite control is never an easy job, not for amateurs and inexperienced people. Nearly 20 years of operation and building a solid reputation in the field of termite killers, professional insect control allow us to be proud to be one of the few leading termite companies on the market. For many years, corporations, large and small business agencies (Vingroup, Government guesthouse, A25 hotel chain ...) and millions of households across the country have trusted and chosen to be a reliable partner. full responsibility of the mission to protect buildings and properties from the attack of termites.
Two factors determine service quality: HUMAN and TECHNOLOGY. Hanoi Pest Control's professional technicians are staff who work with the company during the formation and development process, directly handling termites where each house has different damage status, termites, termite group size and diversified treatment methods, they equip themselves with necessary knowledge, seasoned experience, combine high skills, are well trained, a sense of responsibility is committed to bring translation. perfect service, oriented to absolute satisfaction of customers.
On the other hand, the indispensable element of human support is technology. Recognizing the continuous development of science and technology, focusing on investment in renovating equipment, grasping modern termite control technologies from developed countries in the world such as Australia, USA, Japan is given top priority by the management of the company. Not only for profit, all services provided by Hanoi Pest Control are oriented towards the value received by the customers and the satisfaction of customers when finding us.
Customer value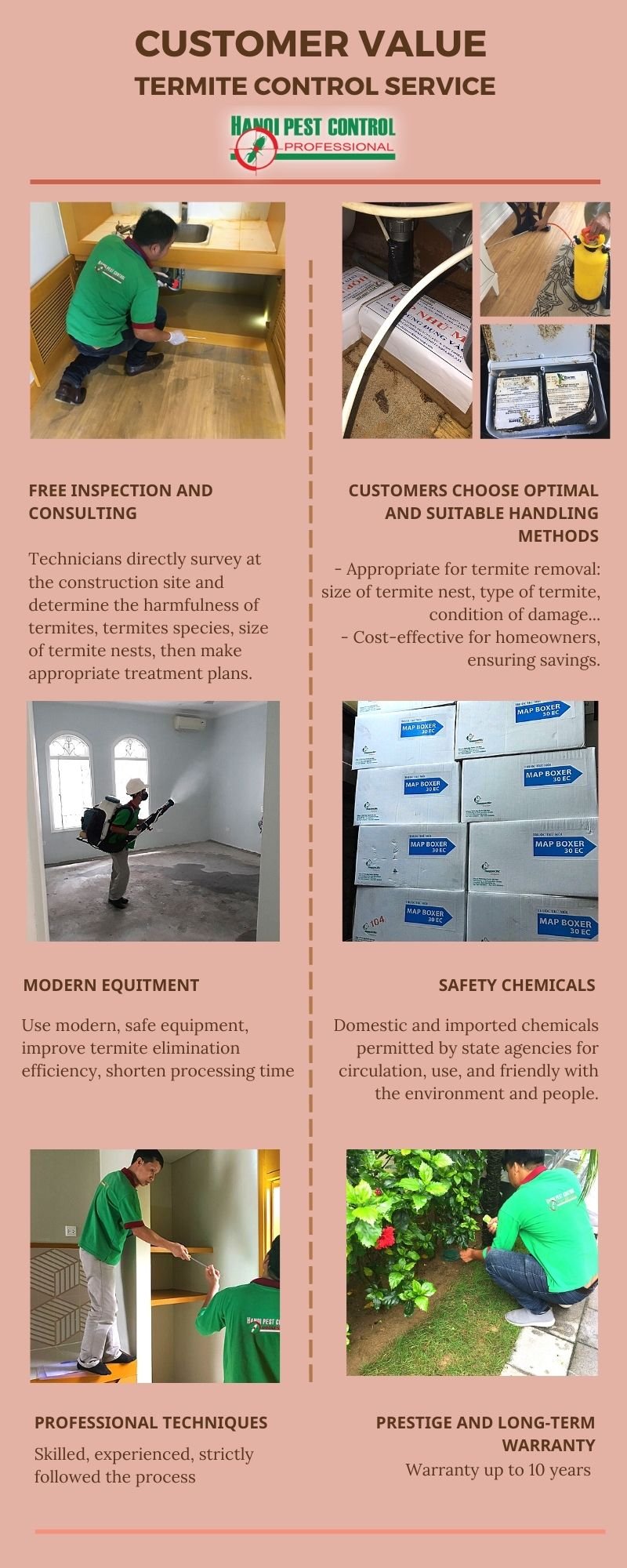 Effective methods of controlling termites.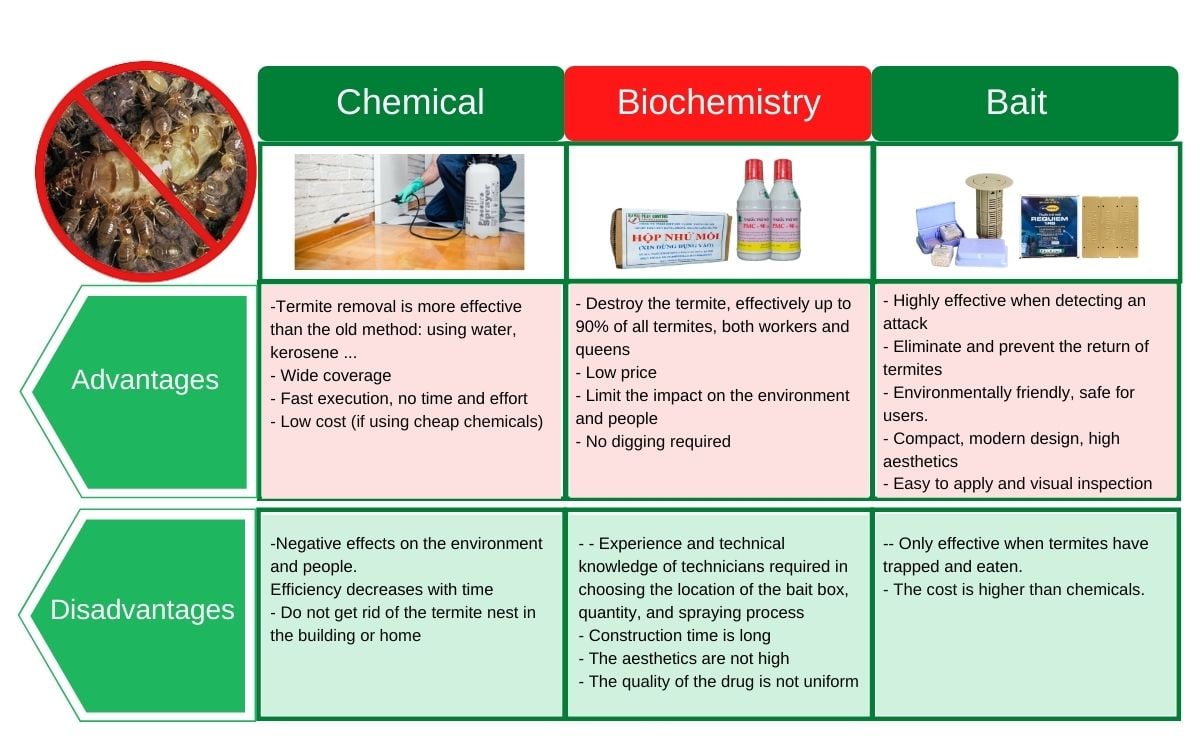 Our termite control services
Termite control service for plants
Termination control service for furniture: kitchen cabinets, wardrobes, TV shelves

Termite control service for walls, wooden floors, electrical outlets, door frames, stairs
Target customers using termite extermination services
Termite removal at home for households, apartments, villas

Termite removal for restaurants, hotels, resorts...

Termite removal for state agencies, offices

Termite removal for diversified production facilities, factories, and warehouses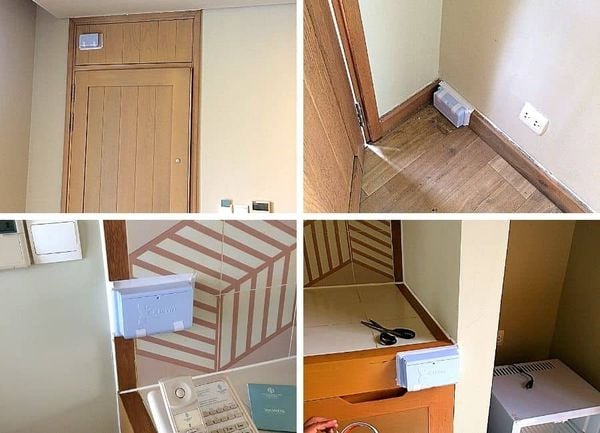 ***Photo realistic***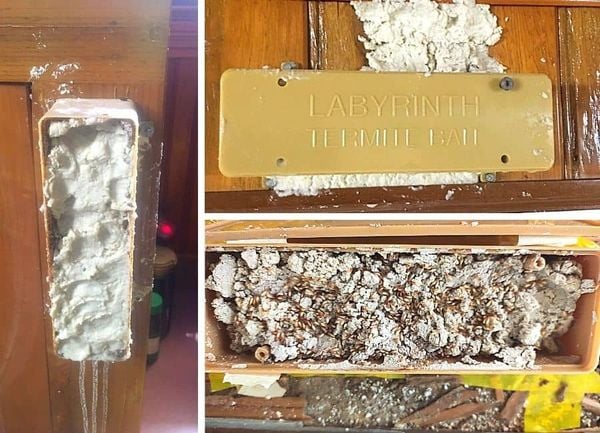 ***Photo realistic***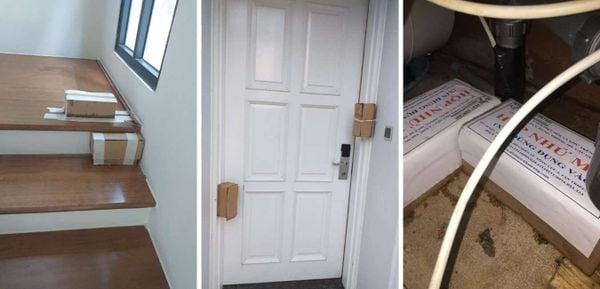 ***Photo realistic***

Your house has a sign of termite, please pick up the phone and contact us the location nearest you !!!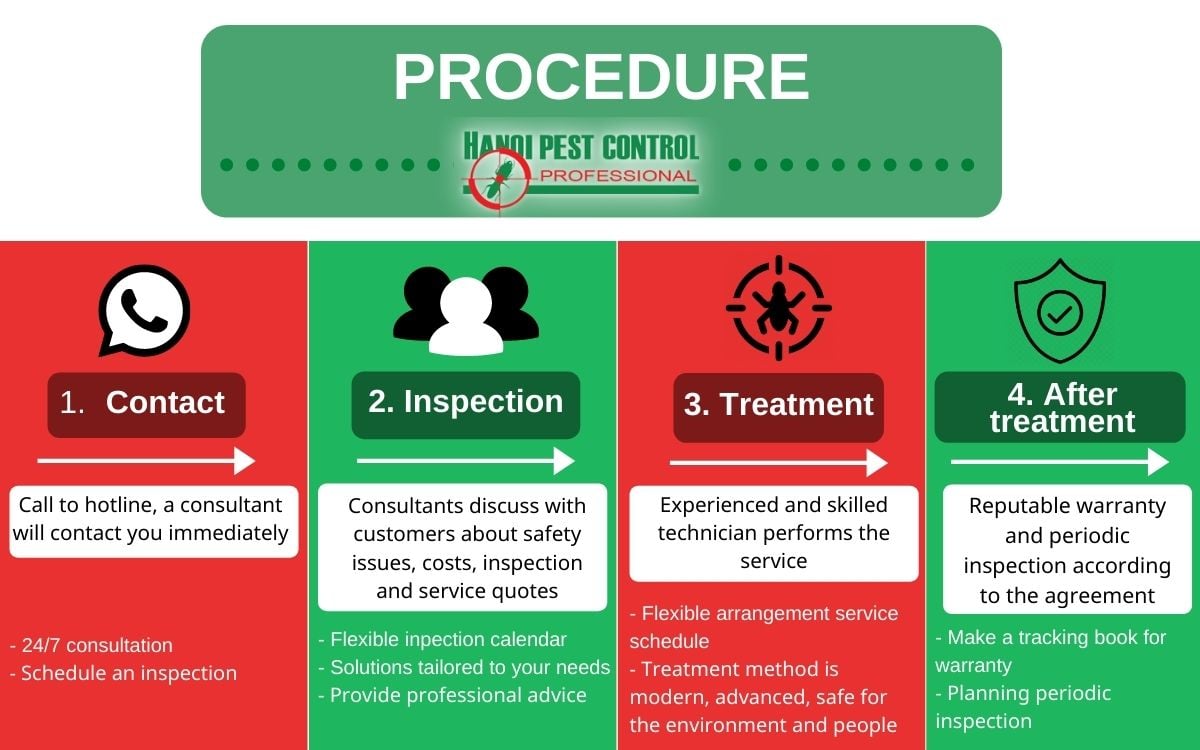 Commitment to reputable and long-term warranty. Warranty period depends on contract value, customer agreement and HNPC, status of flies, scale ... For details please contact: 0368 298 280