Appearing anywhere and becoming a nightmare for many people, cockroaches stink, quickly reproduce, and hide in every corner of your home. They can survive for 1 to 2 months without food or water. Do you think it is possible to destroy them with a conventional insecticide? Especially the appearance of German cockroaches (small cockroaches) in recent times evolved to be resistant to conventional insecticides, eradication seems to be an impossible task. The best solution for your family is to immediately contact Hanoi Pest Control's professional cockroach control service.
Signs of cockroach infestation
a) Sign of cockroach
A few cockroaches appearing in the kitchen may not be enough to bother you, but dozens or hundreds of them are serious problems. Early detection of the signs of cockroaches left behind and quickly finding the correct treatment before they can reproduce is crucial to 70% of successful root cockroach removal. Spend some time observing your home for the following signs:
Sign of cockroaches infestation
Most of our customers contact us when the amount of cockroaches and the damage caused by this stinking insect is out of their control. Some customers do not pay attention to the appearance of "a few cockroaches", others due to the wrong use of the method of destruction, trust in the "tips" on the Internet or the insect spray products found. at any supermarket But what they did not expect is the persistent, intense vitality of cockroaches, their large numbers and their ability to quickly adapt, even adapt to resistance, allowing them to reappear quickly after a while, bring unpredictable danger.
b) Damage caused by cockroaches
The harm of cockroaches is always a concern of any business or household. Especially businesses that provide accommodation services, restaurants and hotels. Cockroaches are a symbol of poor hygiene, food poisoning, germs of infectious diseases ... Only a cockroach appears can ruin the good image that your restaurant has built up for years, revenue and the restaurant's reputation declined.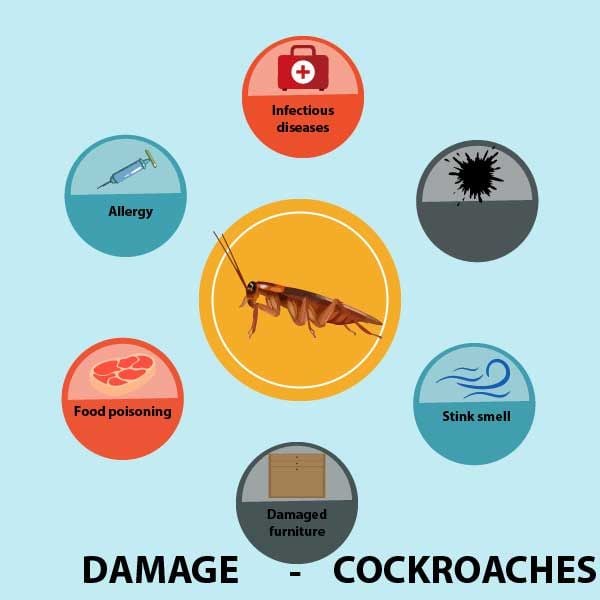 Stop immediately what you are trying to do yourself to get rid of the cockroaches. Save time, effort and money by being simpler: Contact a professional Hanoi Pest Control cockroach control service.
Why is Hanoi Pest Control's cockroach control service?
The first two factors you need to consider before deciding on a service provider are: EXPERIENCE and PRESTIGE
Getting rid of cockroaches has never been an easy task, especially for a company with little experience that does not understand the different behavior of different cockroaches. Nearly 20 years of operation, building a solid reputation in the professional field of cockroaches and insect control allow us to be proud to be one of the few leading cockroach control companies on the market. . For many years, corporations, large and small business agencies (Vingroup, Government guest house, A25 hotel chain, Song Duong restaurant ...) and millions of households across the country have trusted to choose. trust, entrust the mission to protect property and health from cockroaches.

Two factors determine service quality: HUMAN and TECHNOLOGY. Professional technicians are employees who stick with and accompany the company during the development process, directly handling cockroaches where each house has different damage status, cockroach species, The number of cockroaches and treatment methods is diversified, Hanoi Pest Control's technicians fully equip themselves with necessary knowledge, lots of experience, combining high skills, well-trained, responsible spirit is committed to providing perfect service towards absolute satisfaction of customers.
On the other hand, technology is an indispensable factor to support people. Recognizing the continuous development of science and technology, focusing on investment in renovating equipment, grasping modern cockroach control technologies from developed countries in the world such as Germany and Japan. .. to be given top priority by the management of the company. Not only for profit, all services provided by Hanoi Pest Control are oriented towards the value received by the customers and the satisfaction of customers when finding us.
Customer value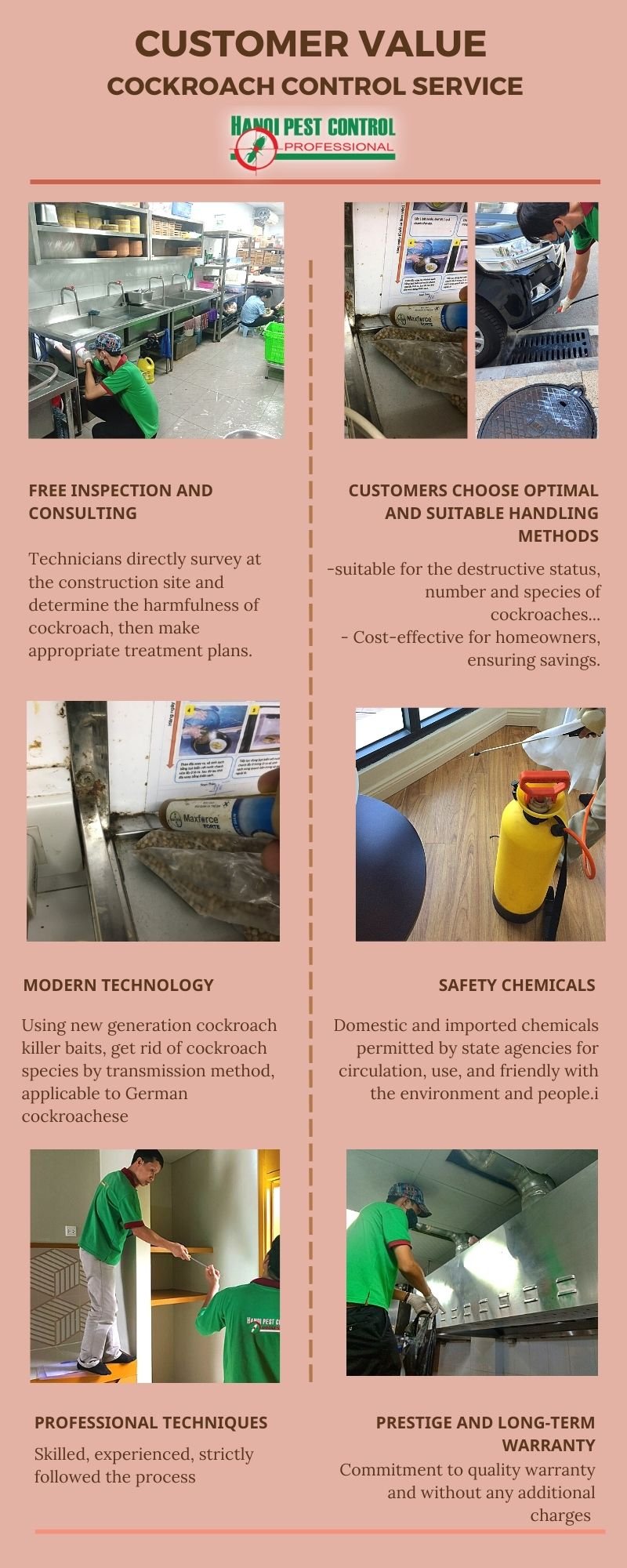 Effective methods of controlling cockroaches.
- Cockroaches bait:
Baits will be placed in places where cockroaches often travel, hidden corners such as: kitchen cabinets, under cabinets, water pipes, underneath electrical equipment... Hanoi Pest Control uses MAXFORCE FORTE cockroach baits belonging to the trade brand Bayer Germany, an exclusive product distributed by us. Cockroach baits are intelligently designed, destroying cockroaches by transmission. With other cockroach-killing products, many customers are concerned about the negative impact on their health. When using MAXFORCE FORTE bait, that worry will be resolved. The ingredients of cockroach baits contain bitter active ingredients that prevent BITREX from ingestion of children and pets. On the other hand, MAXFORCE FORTE is considered a special product to treat German cockroaches for apartments, kitchens...small cockroaches dubbed "immortal" are immune to conventional insect sprays.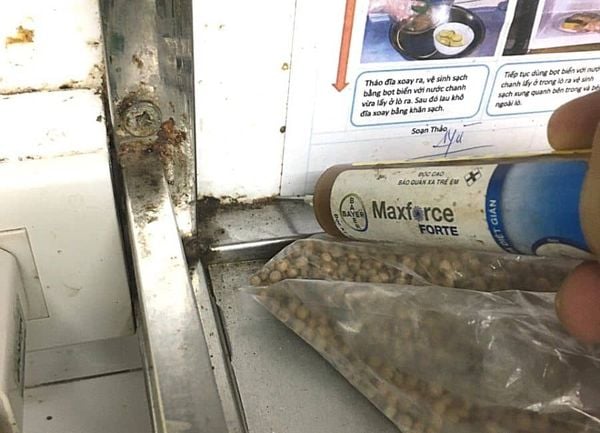 - Chemical spray:
Using special treatment chemicals, creating a barrier preventing the emergence of cockroaches in the future.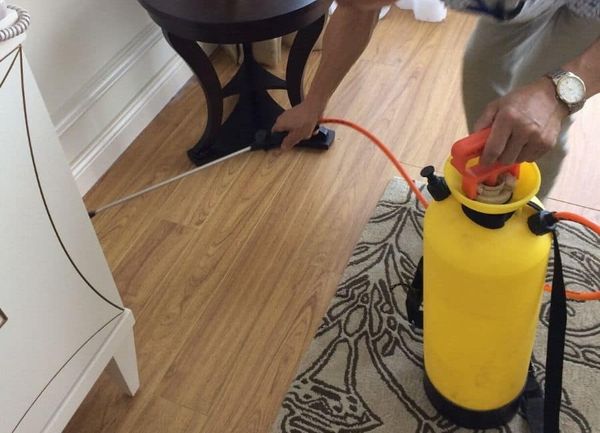 In addition to combining baiting and spraying chemicals, Hanoi Pest Control's technicians also advise customers on necessary cleaning solutions, repair hardware structures, and prevent the risk of cockroaches coming back in the future
Customers using HNPC's cockroach control service are very diverse:
Controlling cockroaches at home for households, apartments, villas

Controlling cockroaches for restaurants, hotels, resorts, resorts

Controlling for state agencies, offices

Controlling cockroaches for production establishments, factories, goods warehouses
***Photo realistic***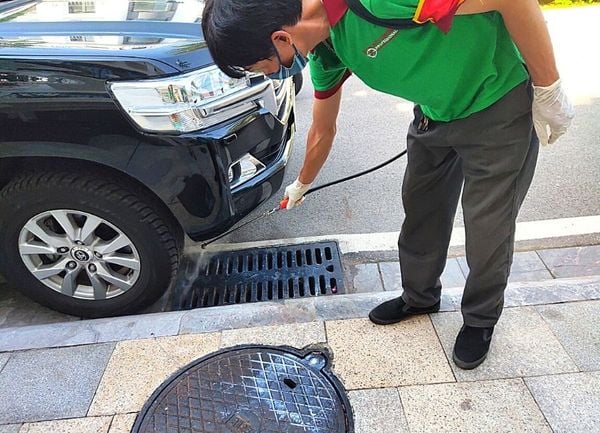 ***Photo realistic***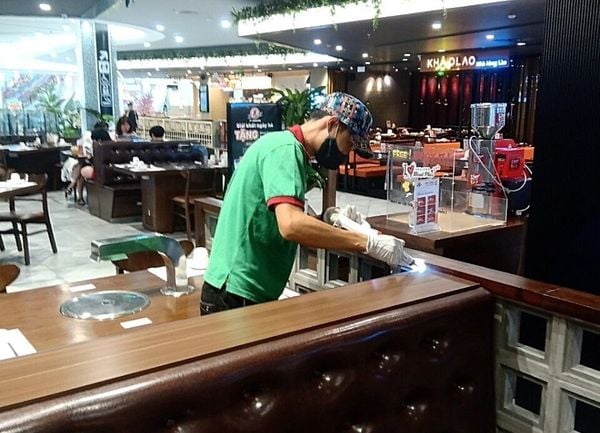 ***Photo realistic***
Your house has cockroaches, please pick up the phone and contact us nearest to you !!!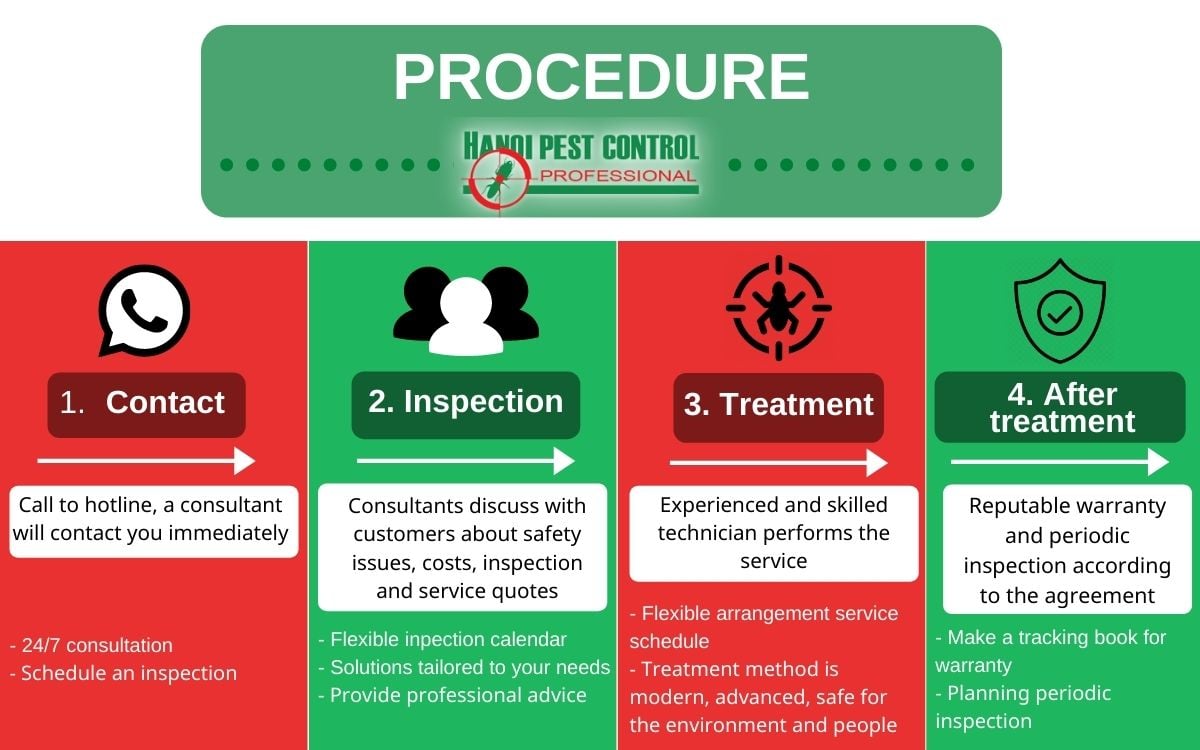 Commitment to reputable and long-term warranty. The warranty period depends on the contract value, the agreement of the customer and HNPC, the situation of cockroaches, scale ... For details please contact: 0368 298 280